Teneo is fortunate to work with and advise leading CEOs around the world as they navigate this environment.
As the calendar turns from a tumultuous 2022 to the uncertainties of 2023, we surveyed more than 300 global public company CEOs and institutional investors representing approximately $3 trillion USD of combined company and portfolio value to capture views on key issues for the coming year.
From the global macroeconomic outlook to innovation and emerging technologies, deglobalization and its knock-on effects, ESG and talent, perspectives are, in many ways, aligned. For example, 86% of CEOs and investors believe that deglobalization is a reality, with almost half of CEOs acknowledging that this will have a significant impact on their companies.
However, tensions appear in several key – and perhaps unexpected – areas, highlighting possible vulnerabilities and opportunities for business leaders in the year ahead. For instance, CEOs and investors have widely divergent views on the economic outlook for the first half of 2023. While 73% of leading CEOs expect worsening conditions in 2023, 76% of investors expect conditions to improve.
This represents just a sampling of the insights highlighted in this report. We hope that the findings prove useful as you plan your strategy for 2023 and beyond.
We wish you all the best for the year ahead.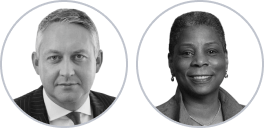 Article by
Paul Keary, Ursula Burns